At times, it's quite difficult to pick out blogs that will make up the entries for a blog rank listing. This is because there are several of them in Australia serving their roles very well. The difficulty arises from the determination of the criteria and how the evaluation of the ranking will be made. Obviously, some objective, as well as subjective criteria, has to be utilised.
Website Effectiveness
Since blogs are web presentations that aim for readership, their effectiveness as a website will provide much of the weight in their selection. Different people have different concepts of "best". And from where we sit as an Adventure Survival Gear website and lover of travel, the criteria for blogs that will land in our top or best listing will have to be subjectively tainted by that effectiveness and by how our products will be useful for our followers and clients.
Top Bloggers' Lists
For our purpose, we have decided to highlight the choices made by four travel bloggers who have made some following in their Google page ranking, among other metrics and assessment factors. We acknowledge the validity of the evaluation criteria that each one of them used in coming up with their selections. After all, even if objective parameters such as metrics were used, subjectivity in the evaluation of the factors will still play a big part in establishing the ranking. Our listings are therefore more subjective than objective but are deemed fair for our purpose of joining the ranks of four other bloggers who are operating independently from each other.
The Most Preferred Australian Outdoor and Adventure Blogs
Here are the lists of some of the most preferred Australian outdoor and adventure blogs. We have picked out the top entries from the evaluative lenses of fellow bloggers.
Michael Turtle, you sure won't forget the name. Michael does more than just traveling – he gets to know the people, the culture and the stories behind every place he visits. Having visited 50 countries in four years? WOW! He quit his job at 30 years old and explored the world from then on. His love for traveling and his experience in TV and radio journalism got him the Best Travel Blog award for 2014. Among his readers' favourites is his post about meeting The World's Oldest Backpacker, which has given inspiration to those who want to take on the world one country at a time. Follow him at Facebook and Twitter.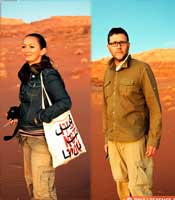 Meet Lara and Terrence, both born in Australia and based in Asia. When you're a couple who share the same passion, what could go wrong? They're both travel and food writers, and into photography. The pictures they have on their blog, will make you want to take the next flight to any place they've been to. Their works have been featured in various magazines, blogs, and publications such as CNN, National Geographic Traveler, BBC History and many more. When you have a power couple such as Lara and Terrence, expect life to happen anywhere. Follow their Facbook, Twitter and Instagram.
Almost 250k followers in Facebook, 22k in Twitter and 362k in Instagram, it cannot be denied that when it comes to traveling, Brooke Saward is one of the bloggers that you have to follow. Pictures are, of course, double-tap worthy and blog posts can either make you drool or daydream. Want tips on how you can manage to travel on your own? Then worldofwanderlust.com is definitely your go-to blog.  For the list of her top 10 most popular travel posts for 2015, you can find it on this link. She invites everyone to escape into her world of never ending adventures. Follow Brooke at her Facebook, Twitter and Instagram.
What will you do if you have the world as your playground? That's what probably Lisa Michele Burns has in mind whenever she goes from one destination to another. Her weapon of choice is her trusty camera so she could always take home a piece of her travel adventure. From photography tips to travel guides, thewanderinglens.com will surely give you the sudden urge to own a good camera and travel. Follow Michele at her Facebook, Twitter and Instagram.
There are people who decide to put traveling on hold because of their kids, but not for Leah, the owner of kidbucketlist.com.au, who believes that traveling with your kids is one of the best opportunities to bond, learn and have fun. This blog encourages parents to create a Kid Bucket List – things that you want to do WITH your kids and places you want to explore WITH your kids. Check out Leah's own list here! Follow Leah at her Facebook, Twitter and Instagram.
She's not only one of the prettiest faces you'll see on Youtube, she's one of the coolest travelers too, and for that, she has amazed 143k followers! She offers helpful travel tips like How to Survive Long Flights and Smarter than Smart Travel Tips that garnered 334,822 views. Her videos are short enough to hold the viewers' attention and informative enough to make them want to come back for more. Don't forget to subscribe to her YouTube channel and follow her in Facebook.
It all started when Mark saw the film World Safari; from then on, he also wanted to travel the world and film each adventure. He has explored Australia, Asia and Central America; when he visits a place, he does more than just sightseeing – he actually talks to locals for stories, advice and a lot more. His video entitled Travel – Airlie Beach, Irish Backpacker, Australia has already earned more than 7M views! Don't forget to subscribe to his YouTube channel and follow her in Facebook, Twitter and Instagram.
Vagabrothers, your Vagabuddy Vloggers. They travel, they learn and they repeat the process all over again and we don't know when the cycle's going to end. In fact, they spent 6 months to travel to 6 continents to win the Biggest, Baddest, Bucket List video competition, and they did win! They explore, document it and if it's not obvious yet, they post it on YouTube for everyone to see. Aside from travel videos, you can also get reliable packing hacks, gift guides and travel food tips. Follow them at their Facebook, Twitter and Instagram.
"Adventure is for everyone," that's the motto Dave and Deb live by and you got to believe us when we say that each of their travel video has a great story to tell. Their blog won the Lowell Thomas SATW Best travel blog award and they believe that their videos played a big part in being recognised as the best among the rest. 7 continents, over a hundred countries and a million stories to share. Also follow them in their Facebook, Twitter, and Instagram.
From a marine biologist to a travel videographer, Mike Corey sure knows how to live life to the fullest. According to him, whenever he travels he doesn't only learn more about the place, he also gets to know himself better in the process. Values he lives by: Creativity over Conformity, Curiosity over Compliance, and Experiences over Possessions. Take a quick trip to the Bahamas or to Thailand or find out what it's like to take the Habanero challenge… Let Mike show you how or why not be like Mike? More of Mike at his Facebook, Twitter and Instagram.
What happens when an actress explores the world? You get fantastic travel videos, of course! Travel tips, food trips, fashion advice – there's so much to look forward to from Kristen Sarah every single day! What sets her apart from the other vloggers is that she puts humour in most of her videos to entertain viewers even more. Travel, film, write, teach and inspire – those are the things that she does best. Check her website hopscotchtheglobe.com and don't forget to follow her in Facebook, Twitter and Instagram.
If hiking is already part of your life, let Appalachian Trials be your guide. The blog could be your source of hiking techniques, gear reviews, tips, pre and post-hike strategies, hiker stories and the list goes on. The blog has gotten good reviews from credible sites like The Amazon Reviews and their aim is to inspire future hikers to get out and live their own adventure. Folow Zach in Facebook, Twitter and Instagram.
Hiking, backpacking and adventure – three words that define Jeff Hester's blog, socalhiker.net. He has created guides, hiking advice and tips, checklists and how-to posts. His blog has been recognised by USA Today as one of the 10 Best Hiking & Outdoor Blogs and he won the Golden Boot award back in August 2014. For his recommendations, read about his 10 Amazing Hikes Around the World and start your adventure soon. Follow him in his Facebook, Twitter and Instagram.
Sharing and learning camping experiences, gear and book reviews and nature appreciation, that's what The Campsite is all about. The blog allows campers to connect with and understand camping better through fellow enthusiasts or as the blog calls them, campsite correspondents.  The Campsite bagged the Webtogs 2015 Best Camping Blog award and the Golden Boots Blogger award. It has also been recognised by FLIpkey.com, Crossbow Critic, Hike Like a Woman and USA Today. Follow their Facebook, Twitter and Instagram.
When the blog claims that Modern Hiker is Southern California's oldest and most-read hiking blog, they're dead serious. In fact, there are quite a lot of institutions that recommend them as a credible and expert source of information when it comes to hiking. Recommendations for your next hike on SoCal and beyond? Modern Hiker can give you suggestions and tips; learn from a community of hikers, backpackers, campers, rock climbers and outdoor enthusiasts. For more of their hiking adventure follow their Facebook and Twitter @modernhiker.
A one-stop all-about-hiking shop, that's what Hiking the Trail is. Thanks to Adam Nutting – hiker, backpacker, adventurer – for putting up a special blog in 2013. This blog has been witness to his many adventures, trails he has conquered, reviews and gear lists he has shared with fellow enthusiasts. By following Adam's blog, it's like you're already starting a journey of your own. Follow them in social media: Facebook – Twitter – Instagram
Word to the wise: TRAVEL – that's basically the main message of this blog. Why? Because traveling could give you a sense of ownership over your life. It sets you free. Sounds too good to be true, but it is good and it is true. Traveling offers adventure, discovery,inner peace and happiness beyond compare especially if you're doing it with the ones you love. YTravel Blog has been changing how people perceive life and traveling sice 2010, and as what the owners Caz and Craig Makepeace say, the world is the place we call our home – make it your home, too.
James Clark calls himself a digital nomad and a long-term wanderer from Melbourne. The blog,which James has created, features travel guides, personal travel narrative, photography and tips. He travels to discover the world and earn a living at the same time… he may not have a fixed address right now but who needs that when you have the world to give you shelter, right? Want to be a travel blogger too? Allow the master travel blogger himself to help you get started. Follow James in social media Facebook and Twitter
Exploring the world since 2010. Chris has been a student of the world – learning about traveling and sharing everything he has learned with those who want to discover the world too. He started as a budget traveller but his passion for his work enabled him to enjoy the expat lifestyle. It all starts with a goal and the only thing to achieve it is to invest in it. Get tips, advice and suggestions from an award winning travel blogger – don't get stuck, move forward! Follow Aussie Nomad at Facebook, Twitter and Instagram.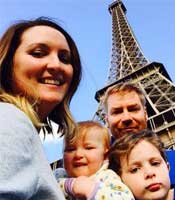 Why leave the kids behind if you can take them with you everywhere you go? Will you let them miss out on the fun? Impossible? Then you haven't met Bethany Davies and you surely haven't been to her family travel blog. All you have to do is travel smarter to "travel cheaper, better and more enjoyable." Learn about how they manage to long-distance travel with their kiddos and get a comprehensive list of travel planning tips from the expert flashpacker herself. Don't forget to follow them in Twitter and Instagram.
When you got J.R.R. Tolkien's "Not all those who wander are lost" tattooed on your ribs, then you must take traveling very seriously. Take Liz Carlson as a good example. Her love for exploring the world started when she was 16 years old. She has already been to over 40 countries, but nothing can stop her from getting more and more curious about "what it's like to be there", wherever "there" may be. For a perfect mix of culture, travel and misadventures, the Young Adventuress will get you amazed and going. Follow Yound Adventures in Facebook, Twitter and Instagram.
Adventure Survival Gear
There are indeed many adventure blogs that can help you in making your outdoor adventure worthwhile and successful. Additionally, in order to have a safe outdoor trekking and camping, you need to have the best adventure kit and survival gear. At Adventure Survival Gear, you will find a wide selection of the best outdoor survival gear. We are not only an outdoor adventure blog that passionately promotes travel but also the best online shop that offers quality and highly reputable outdoor survival gears. For your travel gears, check them out at [email protected].
Follow us on Social Media: Facebook – Twitter –  Youtube