You've seen Black Diamond products on Adventure Survival Gear and you've seen them in the stores of outdoor retailers across the country, and even on-line distributers. But why are their products so in demand? Why does the brand have such a strong reputation amongst seasoned hikers and the like? Time to back-track and find out why.
Known now as Black Diamond Equipment, the company's history dates back to the late 1950s, when climber Yvon Chouinard began hand-forging pitons and selling them from the trunk of his car in Yosemite Valley, California. Chouinard's pitons quickly gained a reputation for quality, and the pioneering outdoors company Chouinard Equipment was established in Ventura, California.
Chouinard Equipment Ltd. then became Black Diamond in December 1, 1989, In 1996, Black Diamond Equipment Europe was established in Reinach, Switzerland, making Black Diamond products widely available throughout Europe. Black Diamond Equipment Asia was established in 2006 in Zhuhai, China which served as both a secondary manufacturing facility as well as a global distribution center. Priced at $90 million, Black Diamond Equipment was then purchased by Clarus Corporation which owns Armor inc, a major military defense contractor.
Black Diamond Equipment produces a vast array of outdoor gear covering mountain sports, climbing and skiing. Climbing products include locking and non-locking carabiners, quickdraws, harnesses, active and passive climbing protection, belay devices, helmets, ice tools and piolets, crampons, ice protection, bouldering pads and big wall equipment. In regards to the skiing range, Black Diamond Equipment also produces skis, ski boots, bindings, poles, gloves, ski packs, avalanche safety gear and climbing skins. The company's mountain products include tents and shelters, lighting, trekking poles and backpacks.
Finding the right Black Diamond head-torch for you all depends on what you need it for. The Black Diamond Equipment range is large and extensive to say the least, with all models offering a diverse range of specialties.
Currently, Adventure Survival Gear carries the following Black Diamond head-torches:
The Storm Headlamp $89.95
The fully waterproof, 100 lumen Storm takes the versatility of the Spot and boosts its performance with even more power and true all-weather capability.
• 1 TriplePower LED, 2 SinglePower White LEDs and 2 SinglePower red
LEDs emit 100 lumens (max power)
• Red night vision mode activates without cycling through white mode
• Sleek low-profile design uses 4 AAA batteries
• Settings include full strength in proximity and distance modes, dimming,
strobe, red night vision and lock mode
• Three-level power meter shows remaining battery life for 3 seconds after
switching on headlamp
• Protected against water immersion down to 1m (3.3ft) for 30 minutes (IPX 7)


The Spot Headlamp $79.95
Now with 90 lumens of light output, the full-featured Spot is the light to own if you can
only have one. It boasts an array of lighting modes customizable to any fast paced activity.
• 1 TriplePower LED, 2 SinglePower white LEDs and 2 SinglePower red LEDs
emit 90 lumens (max setting)
• Red night vision mode has proximity and strobe settings, and activates
without cycling through the white mode
• Sleek, low profile design uses 3 AAA batteries
• Settings include full strength in proximity and distance modes, dimming,
strobe, red night vision and lock mode
• Three-level power meter shows remaining battery life for 3 seconds after
switching on headlamp
• Protected against splashing or sprayed water from any angle (IPX 4)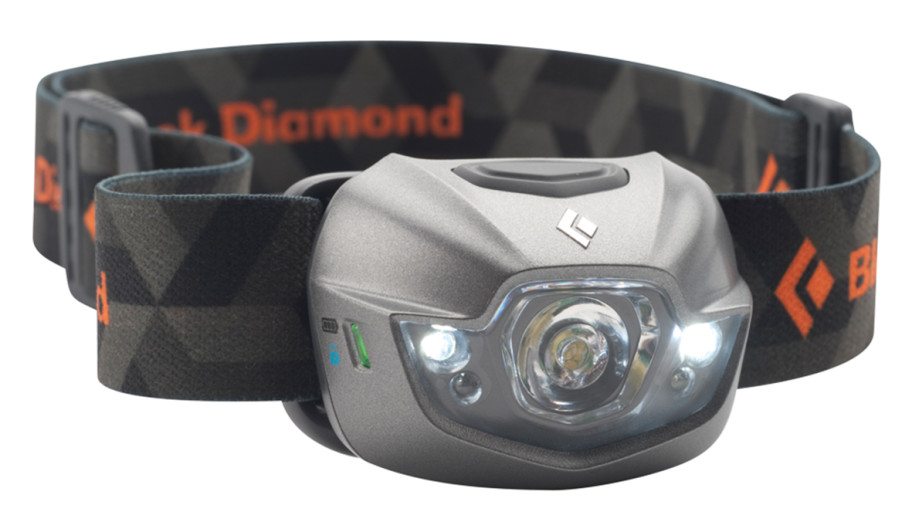 The Cosmo Headlamp $49.95
Completely redesigned, the new, more powerful Cosmo sets a new standard for value and advanced technology in a sleek, full-featured package.
• 1 DoublePower LED, 2 SinglePower white LEDs and one SinglePower
red LED emit 70 lumens (max setting)
• Red night vision mode activates without cycling through white mode
• Sleek, low-profile design uses 3 AAA batteries
• Settings include full strength in proximity and distance modes,
dimming, strobe and red night vision
• Protected against splashing or sprayed water from any angle (IPX 4)


The Gizmo Headlamp $39.95
Ready when you are—the new, slimmer and more powerful Gizmo
• 2 SinglePower LEDs offer compact, proximity lighting at 35 lumens (max setting)
• Ultra compact batteries-in-the-front design uses 2 AAA batteries
• Settings include full strength, dimming and strobe
• Powers off after 2 hours to avoid accidental battery drain
• Protected against splashing or sprayed water from any angle (IPX 4)


The Ion Headlamp $29.95
The essential just-in-case, ultralight headlamp.
• 1 SinglePower LED emits 12 lumens
• 2 LED settings powered by a single 6-volt battery
• Momentary switch powers lamp on and off and prevents accidental
battery drain
• Protected against splashing or sprayed water from any angle (IPX 4)